PYE (INTERNATIONAL) DISCO DEMAND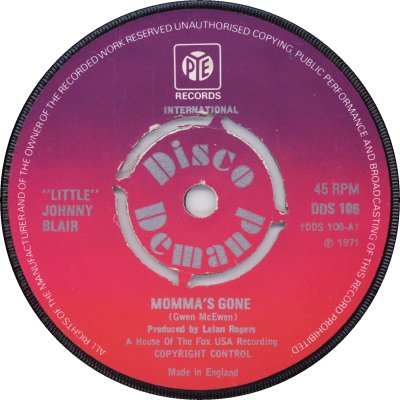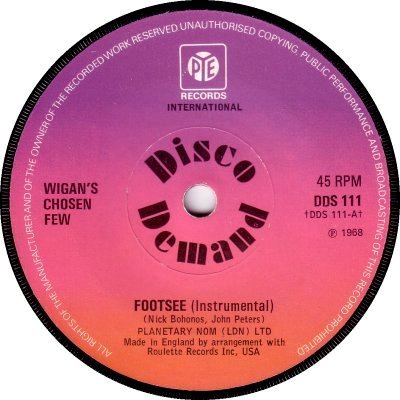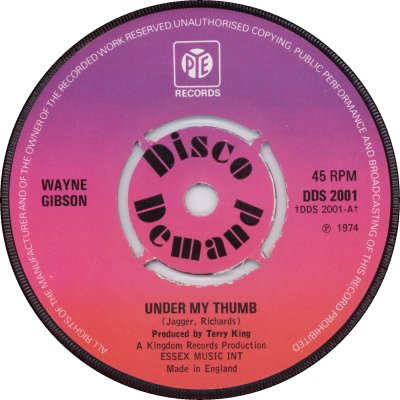 A specialist label, started by Pye in the spring of 1974. According to 'Music Week' of the 4th of May the 'Disco Demand' series of singles was being launched as a result of demand from Northern Soul discos - that was the time when the Northern Soul boom was taking place, and the consequent black market in sought-after rarities was flourishing. 'MW' of the of March 1975 named the man behind Disco Demand as Dave McAleer, and said that the series had been "astonishingly successful". Chart success came in the shape of the 'Under My Thumb' by Wayne Gibson (DDS-2001; 10/74), The Javells' 'Goodbye Nothing To Say' (DDS-2003; 10/74) and 'Footsee' by Wigan's Chosen Few (DDS-111; 1/75), but interest seems to have lessened and there were no Disco Demand releases after 1975.
The label design wasn't anything to write home about, being merely an overprint on the standard Pye (3, 4) and Pye International (1, 2) designs of the time. That said, Disco Demand had a couple of dedicated numerical sequences (DDS-100 and DDS-2000), so I reckon that there's justification for giving it a separate page to itself rather than just lumping it in with Pye. Phil Cole has been kind enough to provide the reason for there being two different sets of numbers, in the form of a quote from Dave McAleer in the first issue of 'Togetherness' magazine (1998) : it says that, being a Soul 'purist', he tried to keep the genuine article away from the imitations by giving the non-USA records a separate series - the DDS-2000s. Issues up to and including DDS-108 had silver printing, the rest were printed in black. The first dozen DDS-100 series issues were on overprinted Pye International labels, the remainder and the DDS-2000 series were on overprinted Pye ones. The existence of overprinted versions of the 1979-onwards black-and-white Pye International labels on some singles would appear to be down to re-pressings. Demos were marked with a large central 'A', after the fashion of those of the main Pye labels at that time; the labels with the credits in silver print were given black 'A's, while those with black credits were given silver 'A's (4) - thanks to CharlieChalk of the 45cat site for permission to use his scan here.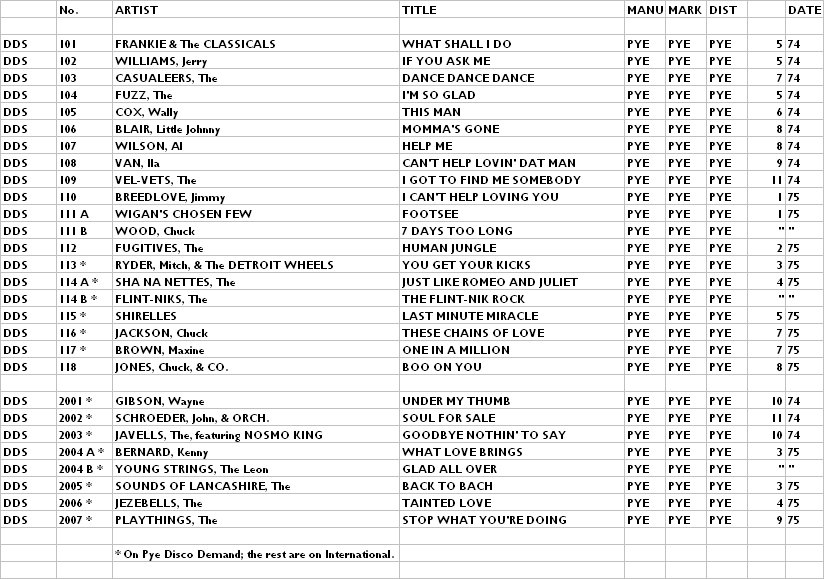 Copyright 2006 Robert Lyons.