BIG BEN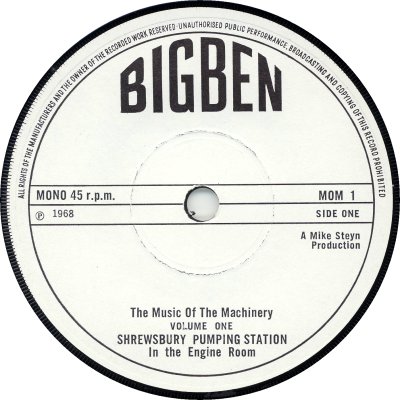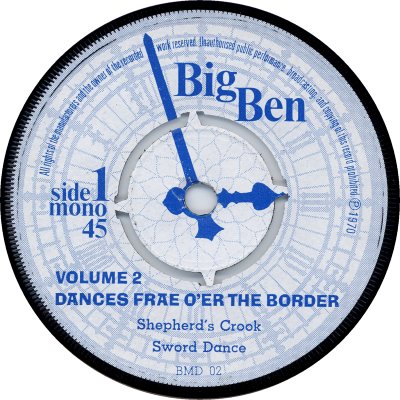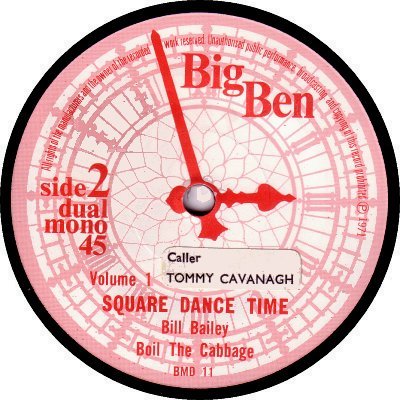 Big Ben was owned by Mike Steyn. It specialized in comedy LPs, of which those of 'Blaster' Bates sold in very respectable numbers, but it also ventured into other fields. 'Record Retailer' of the 21st of February 1968 said that the company's first LP had come out three months earlier and that its second - another comedy album - was out now, via Keith Prowse, H.R Taylor and Clyde Factors. According to the article plans were in hand to broaden the label's scope, and its first 7" EP, released in August of that year, suggested that the broadening was being taken seriously: it was a record of the sounds of machinery at the Shrewsbury Pumping Station, 'Music Of Machinery, Volume 1' (MON-1; 8/69) - sadly there don't seem to have been any more volumes. None of the subsequent releases were quite that exotic, but in the fullness of time Big Ben offered Folk LPs by Dave Goulder, Roy Harper and Andy Roberts, as well as an album of poems in the Lancashire dialect. It also gave birth to an album-only subsidiary label, Tangent, which - as its name suggests - was dedicated to more esoteric material, such as 'The Glass World of Anna Lockwood' (music played on a 'glass harp'; TGS-104; 1970) and 'Gaelic Psalms From Lewis' (TNGM-120), as well as a selection of what came to be known as 'World Music'. The company concentrated on LPs in the main, but it put out four EPs of Dance music by Stan Watts & His Scottish Dance Band and an EP of Square Dance tunes by Tommy Cavanagh & His Country Cousins - according to its cover and labels the Cavanagh was 'Volume 1', but again there don't seem to have been any more of them. Numbering of these records was in the BMD-00s; numbers 05 to 10 seem not to have been used.
'RR' of the 7th of August 1971 revealed that after previously relying on the BIRD group - basically independents Keith Prowse, Lugtons, H.R. Taylor and Clyde Factors - for distribution Big Ben had signed a two-year deal with Transatlantic; Clyde continued to handle the label in Scotland. An advert for Blaster Bates's 'TNT For Two' LP in 'Music Week' of the 1st of December 1973 said that it was also available via Lugtons, which suggests that the Transatlantic deal had been extended and that Lugtons was sharing the job again. As was the case with many independent companies, Big Ben's pressing was done mainly by independent manufacturers: according to 'MW' of the 2nd of February 1974 it was being mainly carried out by Orlake and Immediate Sound Services at that time. Big Ben moved from Transatlantic to Polydor / Phonodisc in October 1975, and it appears to have stayed there for the remainder of the decade - it continued to put new albums out until at least 1984, and repackaged much of its comedy back-catalogue in CD form later on. The first 7" label was of a somewhat plain design (1); it was replaced by a more ambitious one for the Dance EPs (2, 3) - this 'clock' design also came in brown and green. The 'Dual Mono' system referred to on the third scan consisted of having the caller's instructions in one channel and the music in another, so that if you disconnected one of the speakers of your stereo system you could have one without the other, or you could use the 'balance' control to give one of them priority; the idea doesn't seem to have caught on. The first two records shown above were pressed by Orlake, the third by Pye. Big Ben was based at Suite 11, 52 Shaftesbury Avenue, London W1.








Copyright 2006 Robert Lyons.