CONTEMPO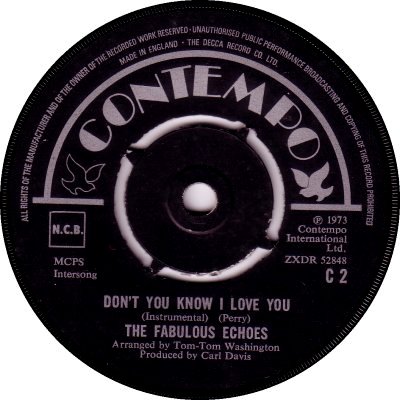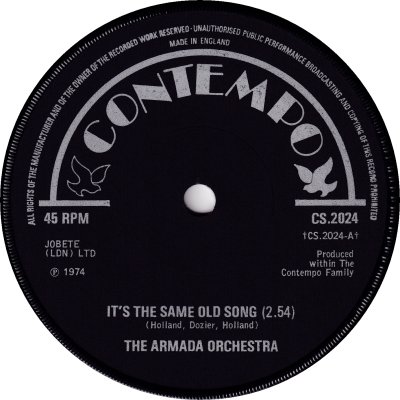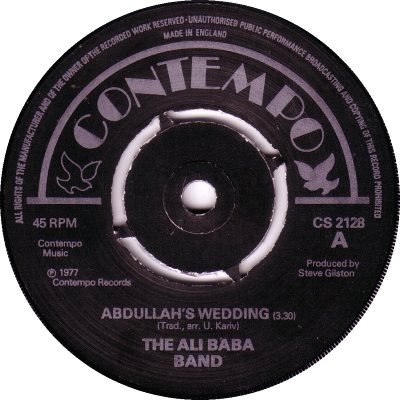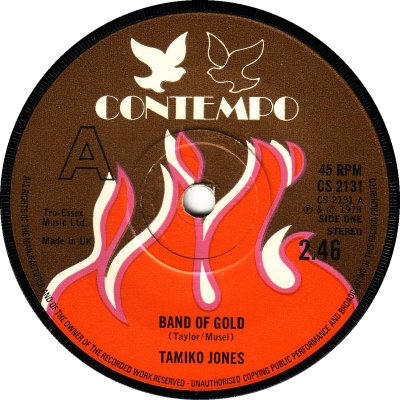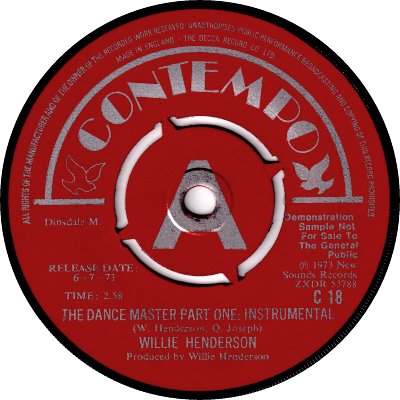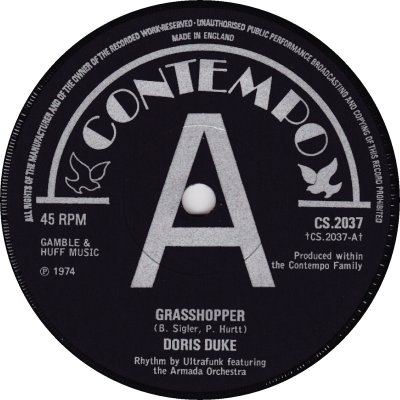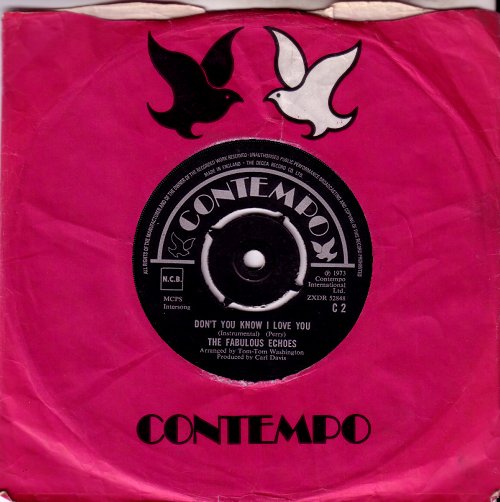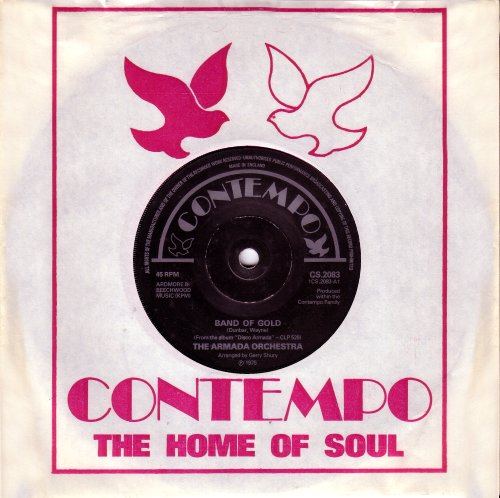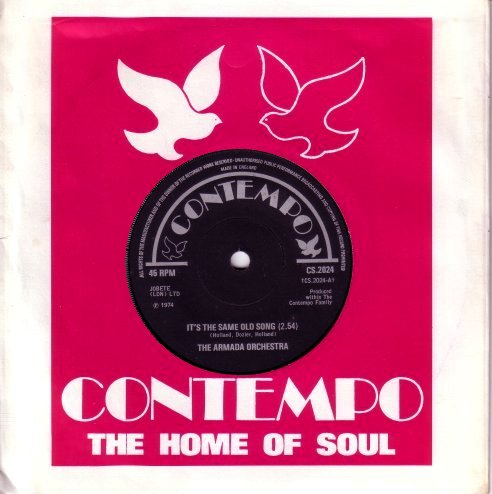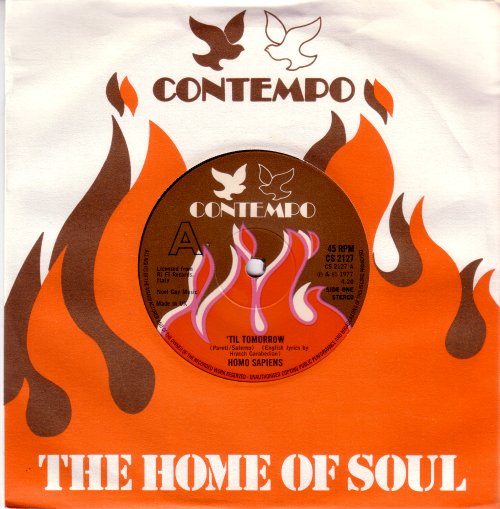 Contempo was owned by John Abbey, founder of 'Blues and Soul' magazine and the 'Action' record label (q.v.), and was the record label of his Contempo International company. Contempo International's roots lay in the 1960s; by 1970 its activities included a record shop, a mail-order US Imports business and a booking agency, in addition to publishing 'B&S'. It established a role for itself in the music business in 1971 when it played a major part in the operation of Polydor's dedicated Soul label, Mojo (q.v.). 'Record Retailer' of the 6th of February 1971 observed that Abbey was one of the people who had been appointed to source material for the new label; while 'RR' of the 8th of January 1972 went further, describing Mojo as Abbey's 'brainchild' and saying that, while Mojo was wholly owned by Polydor, Contempo International was responsible for acquiring suitable product and deciding upon releases. The company went on to serve similar functions for other Soul labels. 'Billboard' of the 9th of October 1971, which described Contempo International as the 'operational base' for Mojo, revealed that it was now involved in the selection and promotion of Stax material. In May 1972 Atlantic joined the list of the company's clients: 'Music Week' of the 20th broke the news that Atlantic's Soul product release and promotion would be handled by Contempo International, with John Abbey working alongside Atlantic's Janet Martin to decide release policy.
The autumn of 1972 saw a lessening of Contempo International's involvement with other companies. Early in September it severed its links with Polydor because of a disagreement over the future direction of Mojo - 'Billboard' of the 7th of October, looking back, said that Polydor's failure to launch Mojo in America had been the bone of contention. By the end of September Contempo International had also ceased to handle Stax's product release and promotion. Perhaps as a result of these experiences Abbey set about forming a label of his own. 'MW' of the 9th of September 1972 reported that he was in discussions with WEA about a possible new Soul label, to be distributed by Atlantic. By the time 'MW' of the 30th of September came out, matters had moved a stage further: plans for the new label had been made, and a deal with a major was expected in the next few weeks. The article said that despite the development Abbey would to continue to be responsible for Atlantic's Soul output. In the event 'the next few weeks' proved to be over-optimistic forecast, and it wasn't until the 16th of December that 'MW' was able to give details about the new label. The report stated that the Contempo label would debut early the following year, and that as well as licensing material it would also sign American artists directly - it would be the first British Soul label to do so. A three-year manufacturing and distribution deal with Decca had been signed. Abbey's work for Atlantic would not be affected.
The first Contempo singles duly appeared, in January 1973; they were followed by a string of others, mostly American in origin and all aimed at the Soul / Dance market. Numbering was in a C-0 series; records which had export restrictions placed upon them had an 'R' suffixed to the 'C', as was the case for other Decca family singles at that time. The arrangement with Decca started well but turned sour, and after one year of the three-year deal Contempo looked elsewhere. The search proved successful: 'MW' of the 23rd of February 1974 was able to reveal that Contempo had moved to Pye under a three-year distribution deal. According to a company spokesman in 'MW' of the 21st of September 1974 the year at Decca had been a frustrating one: 'sympathetic' Decca sales staff had moved on within weeks of Contempo's arrival and their replacements had not been so sympathetic. According to that article the new agreement was a licensing and distribution one, rather than the plain 'distribution' one referred to in 'MW' of the 23rd of February, with the Pye sales force taking responsibility for selling Contempo's product. Singles were given new catalogue numbers, in the CS-2000s.
The move to Pye saw Contempo branching out, in the shape of two new labels: Contempo-Raries for 'oldies', Surrey International for Pop (q.v. both). 'MW' of the 23rd of February forecast that Contempo-Raries would arrive 'later in the month', but again there was a slight delay, and it was not until the issue of the 27th of April that 'MW' was able to announce that the first batch of singles would soon be available through Pye. Like its parent, Contempo-Raries dealt mainly in Soul music, but it also provided Rock 'n' Roll with the likes of Del Shannon and Johnny & The Hurricanes. Surrey International, too, suffered from a delayed start: its projected first single appears to have been cancelled, and it eventually made its debut on the 10th of May, at the same time as its sibling.
On the 8th of October 1976 Contempo claimed a 'first' for itself when it issued what 'MW' of the 9th said were the first-ever commercially available 12" singles in the UK. They were released under the 'Disco Dancers' banner, and there were two of them. CX-12 coupled Ernie Bush's 'Breakaway' with 'Chinese Kung Fu' by Banzai, while CX-13 offered The Armada Orchestra's 'For The Love Of Money' and 'Sting Your Jaws' by Ultrafunk. They retailed at £1.75, whereas standard singles were £0.70. According to the article other companies had produced 12" single pressings for use in discos and clubs and for airplay purposes, but Contempo's were the first to be available in the general marketplace.
Contempo's time at Pye seems to have passed in a satisfactory enough manner. It served its target audience well, putting out various kinds of Black music, including Soul, Northern, Disco and Funk, but it only bothered the Singles Chart compilers on three occasions: firstly though a re-release of Tami Lynn's 'I'm Gonna Run Away From You' b/w 'The Boy Next Door', on Contempo-Raries (CS-9026; 4/75), which made it into the Top 40 in 1975, and then in the following year with two singles on Contempo proper, both by Dorothy Moore. 'Misty Blue' b/w 'Here It Is' (CS-2087; 6/76) was a Top 5 hit, but the follow-up, 'Funny How Time Slips Away' b/w 'It's So Good' (CS-2092; 9/76), peaked at No. 38.
After staying with Pye for the best part of four years Contempo moved on. 'MW' of the 17th of September 1977 carried a report that the company had signed a pressing and distribution deal with WEA, which would give WEA access to Contempo's back-calalogue of 'oldies'. 'MW' of the 15th of October said that the deal was a licensing one, that it had been finalized, and that it had come into effect on the 7th of that month. Contempo introduced a new label design at the time of the move, but it continued to use its main CS-2000 numbering series. Sadly Contempo's time with WEA was destined to be brief: it appears to have issued only nine singles before expiring, which it did in the Spring of 1978 - a special batch of singles featuring material licensed from Atlantic was listed in the 'New Singles' leaflet as being due for release on the 31st of March of that year, and was also mentioned in 'Music Master', but it seems to have been cancelled. Roger Foster has been kind enough to point out that John Abbey married American singer Tamiko Jones at the tail-end of the '70s and moved to America, which might well explain Contempo's demise.
One label design served Contempo throughout the Decca and Pye periods. There were minor differences: a reference to 'The Decca Record Co' at 12 o'clock (1) disappeared, naturally enough, after the move to Pye; the Pye-era labels (2) didn't mention Pye at all. Again, from the start of 1977, beginning with CS-2103, a small 'A' appeared at three o'clock (3). The company sleeves varied: they were solid pink during the time at Decca (7), while Pye ones enclosed the wording and the pictures in a box (8). Latterly the contents of the box had the colours swapped over, areas that had been pink becoming white and vice versa (9). During the six months or so that Contempo was at WEA an eye-catching multicoloured design was used for both records (4) and sleeves (10). Promo copies of Decca Contempos had red labels (5); as far as I know, after the move to Pye only CS-2037, Doris Duke's 'Grasshopper' b/w 'Please Come Back', can be found in promo form - promo copies were overprinted with a large central 'A' (6) - thanks to Nicholas Hough for that scan. The small hollow 'A's on WEA Contempos were there solely to denote the 'A' side.








Copyright 2006 Robert Lyons.