JOHN HASSELL RECORDINGS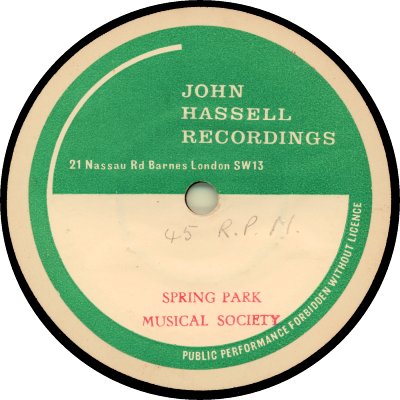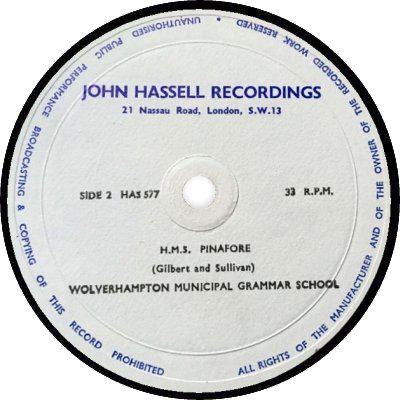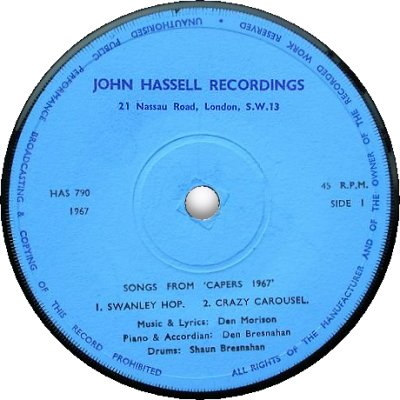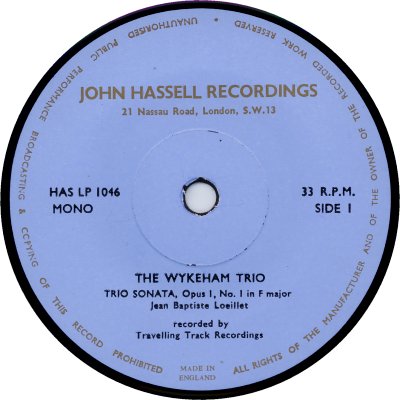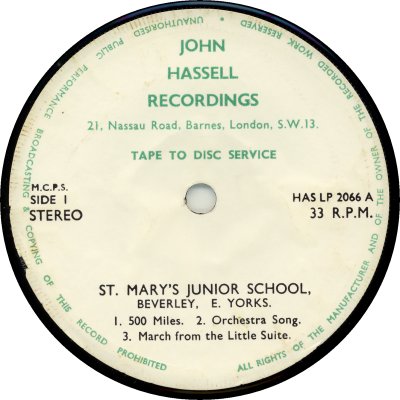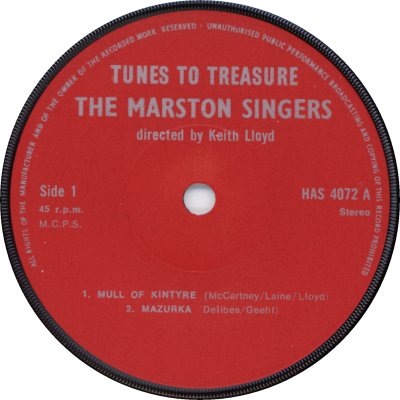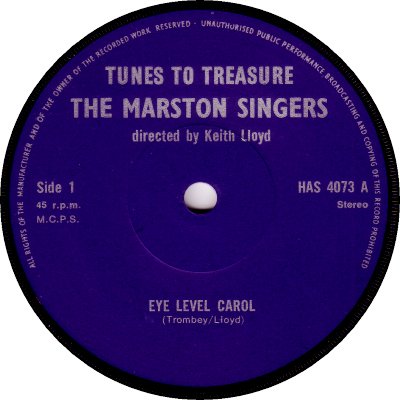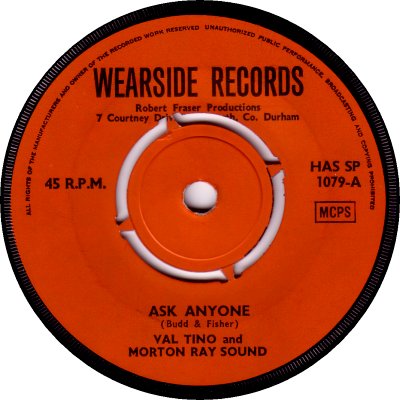 One of many custom recording firms that operated in the '60s and '70s, John Hassell Recordings offered tape-to-disc, studio and mobile recording facilities. The earliest record of theirs that I have seen dated from 1962. I have only been able to trace a handful of 7" records on the John Hassell label; they are listed below, along with whichever of the company's albums surfaced during the search - albums are in brackets. Up to c.1969 each side of a record had its own catalogue number. The gold-on-light-blue design, as exemplified by the label of the Wykeham Trio EP (3) seems to be the commonest one, though the few items I have seen from the second half of the '70s have had plain labels with only the 'HAS' prefix to identify their origin - John Hassell Recordings / JHR have been mentioned only on the covers. At least some records made via the tape-to-disc service appear to have had their own label design (4). Sometimes records made by the company and bearing the company's catalogue numbers were issued on other labels (7).
There are no dates on the labels, but HAS LP-1107, the 'Penshurst Church 1970 Music Festival' LP, gives us one point of reference, and as the Marston Singers' EP 'Tunes To Treasure Vol. 1' features 'Mull Of Kintyre' it must date from after that song was a hit - say, 1978. The company's output seems to have been most often in 12" or 10" format, and the few of its products that I have seen have been by the likes of the Kent Police Band, the Heathfield Junior School and the Orley Farm Choir - standard custom recording fare, in fact. The label isn't seen often: doubtless John Hassell records were pressed in small quantities, as is usual for such concerns. As can be seen, the company's address was 21 Nassau Rd, London SW.13. The Marston Singers were from Wolverhampton, and their 'Eye Level Carol' was the 'Van der Valk' theme Chistmasified. The style of the matrix numbers suggests that their records were pressed by Pye. Thanks to Paul Jones, Hugh Roberts, Bob Tame and John Timmis for their help with the discography; Bob also supplied the second scan, and John the third.








Copyright 2009 Robert Lyons.