STIFF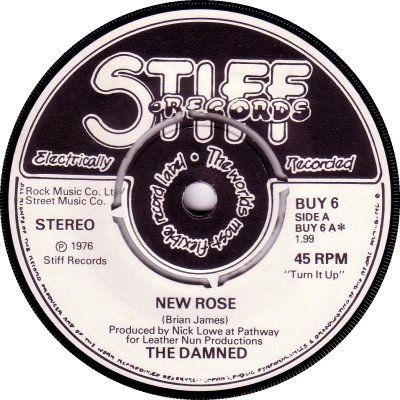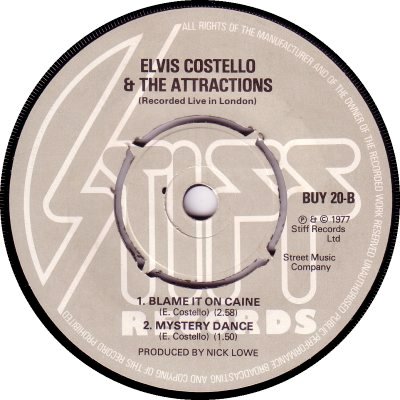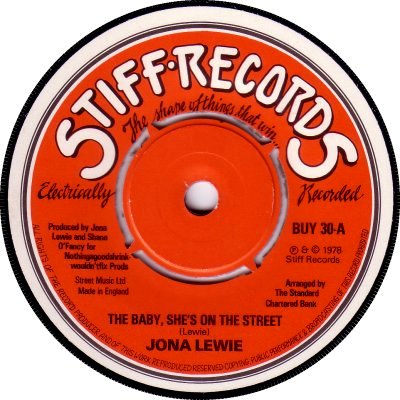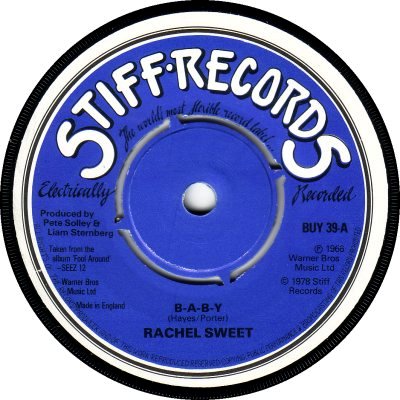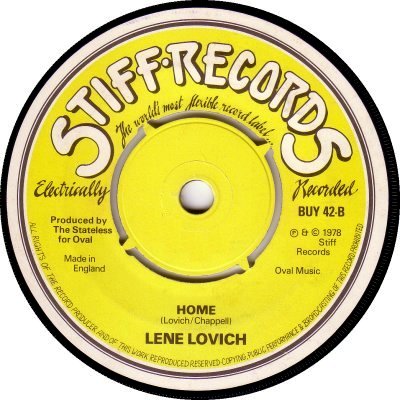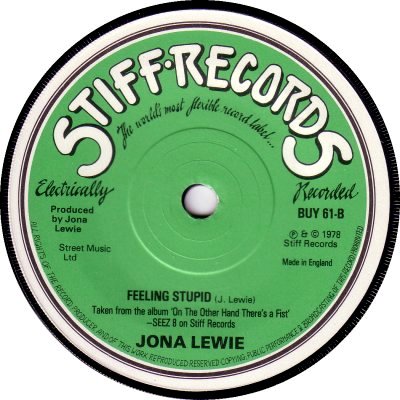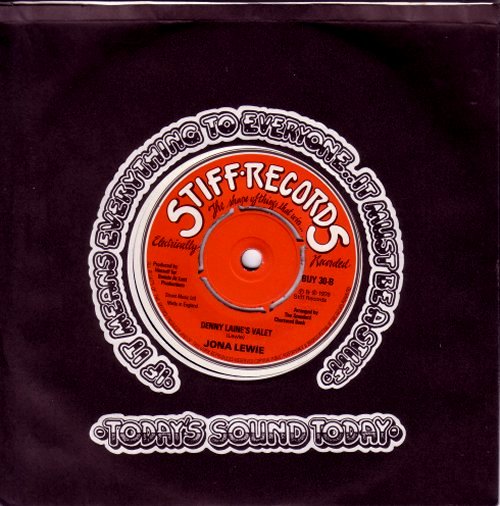 One of the few independent labels from the Punk / New Wave era to grow and flourish, Stiff was set up in 1976 by Andrew Jakeman ('Jake Riviera') and Dave Robinson. It earned itself a place in history by releasing the first Punk single, the Damned's 'New Rose' b/w 'Help' (BUY-6; 1976), and brought a breath of fresh air to the music business with its tongue-in-cheek attitude to promotion and publicity. It was also responsible for introducing Elvis Costello & the Attractions and Kirsty MacColl to the world and for bringing Ian Dury and Madness to a wider audience.
Stiff's advent was announced to the record trade in 'Music Week' of the 31st of July 1976. According to the article it had been launched to promote 'Pub Rock', and would be looking for new Club / Pub Rock talent. One of its stated aims was to release previously unissued material recorded by suitable bands before they signed to other companies. At that time distribution was planned to be via mail order or through selected record shops, but a major distribution deal was being negotiated. Jakeman was quoted as saying that Stiff would be "dedicated to releasing three-chord songs lasting three minutes, as well as collector item discs and possible Chart records", which covers a fair amount of territory. Numbered in the BUY-0s, the first Stiff singles duly appeared, beginning on the 14th of August with Nick Lowe's 'So It Goes' b/w 'Heart Of The City' (BUY-1). Shortly after that single appeared 'MW' of the 25th of September referred to the company as 'managed by Jake Riviera'.
Healthy sales of 'New Rose' led to a one-off distribution deal for that single with United Artists, reported in 'MW' of the 6th of November 1976. 'MW' of the 20th of November added that Stiff's records were pressed by EMI and distributed by a combination of mail order, some shops and an independent company called 'Bizarre'. That early success led to a two-year licensing deal with Island Records, which would cover pressing and promotion and would apply worldwide with the exception of the USA. Under the deal Stiff would keep its own identity and its mail-order network. The first single under the agreement would be BUY-10, The Damned's 'Neat Neat Neat' maxi-single, and that band would also provide the first LP ('MW', 12th February 1977). The new relationship hit trouble fairly soon. 'MW' of the 25th of June broke the news that Stiff was in dispute with Island; no Stiff product was currently available, and none had been available for the past three weeks. There was to be a meeting that Friday in an attempt to settle the dispute. The meeting must have been successful, for 'MW' of the 16th of July was able to say that an agreement had been reached: a new three-year pressing and distribution deal had been signed, and all singles up to BUY-14 had been deleted. Later that year there was another change, a big one. 'MW' of the 6th of October reported that Riviera / Jakeman had resigned; as he had the sole management of Elvis Costello and Nick Lowe, those two artists went with him and from that point onwards their records appeared on his new label, Radar (q.v.). Dave Robinson was to assume sole control of Stiff. The last notable event of 1977 came in December, when Island ceased doing any of its own manufacture and distribution and joined EMI's group of licensed labels. Stiff went with it, EMI honouring the agreement that had been signed with Island.
Despite the losses of Riviera, Costello and Lowe, Stiff continued to do well under Robinson's leadership. It enjoyed a minor success in the form of Rachel Sweet's 'B-A-B-Y' b/w 'Suspended Animation' (BUY-39; 11/78), tickled the Top 10 with 'What A Waste' b/w 'Wake Up!' by Ian Dury & The Blockheads (BUY-27; 4/78), and ended 1978 with a No.1 single by that band, 'Hit Me With Your Rhythm Stick' b/w 'There Ain't Half Been Some Clever Bastards' (BUY-38; 11/78). That year also saw the introduction of what 'MW' of the 4th of February described as a 'new label to cater for a series of short-term signings', 'Stiff One-Off', which didn't last for long. Back on the main label other hits followed, the biggest of 1979 being Lene Lovich's 'Lucky Number' b/w 'Home' (BUY-42; 1/79) and another one by Ian Dury & The Blockheads, 'Reasons To Be Cheerful, Part 3' b/w 'Common As Muck' (BUY-50), both of which reached the No.3 spot. Arguably the most significant event of 1979 for Stiff, however, was the signing of Madness, who were to notch up twelve Top 10 singles, including a No.1, 'House Of Fun' (BUY-146) in the period 1979-82. 1980 saw other artists scoring, notably Jona Lewie who followed 'You'll Always Find Me In The Kitchen At Parties' b/w 'Bureaucrats' (BUY-73; 3/80) with a Top 3 Christmas hit, 'Stop The Cavalry' b/w 'Laughing Tonight' (BUY-104; 11/ 80). Despite all this the label hit financial difficulties in the early '80s, and it was sold to Island in 1984. It enjoyed another brief period of independence in 1986, again under Dave Robinson, but soon closed down.
To return to the more technical side of things, 'MW' of the 6th of October 1979 reported that Stiff had linked up with Virgin to form a joint sales force; Stiff records would continue to be distributed by Island / EMI but would no longer be 'sold in' by EMI. Lene Lovich's 'Bird Song' (BUY-53; 9/79) and 'Fools Gold' by Rachel Sweet were to be the first singles affected by the deal. [In the event the release of 'Fools Gold' didn't take place till February of the following year (as BUY-67), and a correction by the Virgin press and publicity office in 'MW' of the 10th of November started that the 'joint sales force' was actually the Virgin sales force, which had already been running for two years.] A couple of weeks later 'MW' of the 20th of October said that Stiff had moved to CBS for both manufacture and distribution ('MW', 20th October); as Virgin were already with CBS the move must have made sense. Madness's 'One Step Beyond' b/ w 'Mistakes' (BUY-53; 10/79) was the first single under the new deal. A week later, 'MW' of the 27th of October added that 'Bird Song' by Lene Lovich had been switched from EMI to CBS. The label design and catalogue numbers were unaffected by the move.
Stiff used a variety of labels were used in the '70s, starting with the black-and-white one (1), which lasted up till September 1977 and BUY-18. The grey label (2) was short-lived, lasting from September 1977 (BUY-19) to December 1977 (BUY-24), though it also appeared on BUY-41 and LAST-4. Finally there came a more colourful design, which was introduced at the start of 1978 and saw out the decade: it started out red (BUY-25 to BUY-33), changed to blue (BUY-36 to BUY-39), then to yellow (BUY-42 to BUY-52), and finally to green (BUY-53 to BUY-61). There were the occasional exceptions: BUY-40 and BUY-49 were red, and BUYs 30 and 33 can be found with blue labels as well as red ones. Apart from these standard labels a good number of singles had their own specific label designs. As far as catalogue numbers are concerned, in addition to the main BUY-0 singles series there was a short series of EPs, which were numbered in the LAST-0s, and every now and again singles were given discrete numbers, such as LEW-1 and HORN-1. The first ten singles were re-released in the form of a boxed set, the 'Black Box', in July 1978; the next ten followed in December 1979 as the 'Brown Box'. All these boxed singles kept their original catalogue numbers, but they were pressed by Lyntone rather than EMI and they have no dinking perforations. There were also a few labels associated with Stiff: 1-Off, Booji Boy, Stiffwick and Ovalstiff (q.v. all). The discography below only covers the 1970s.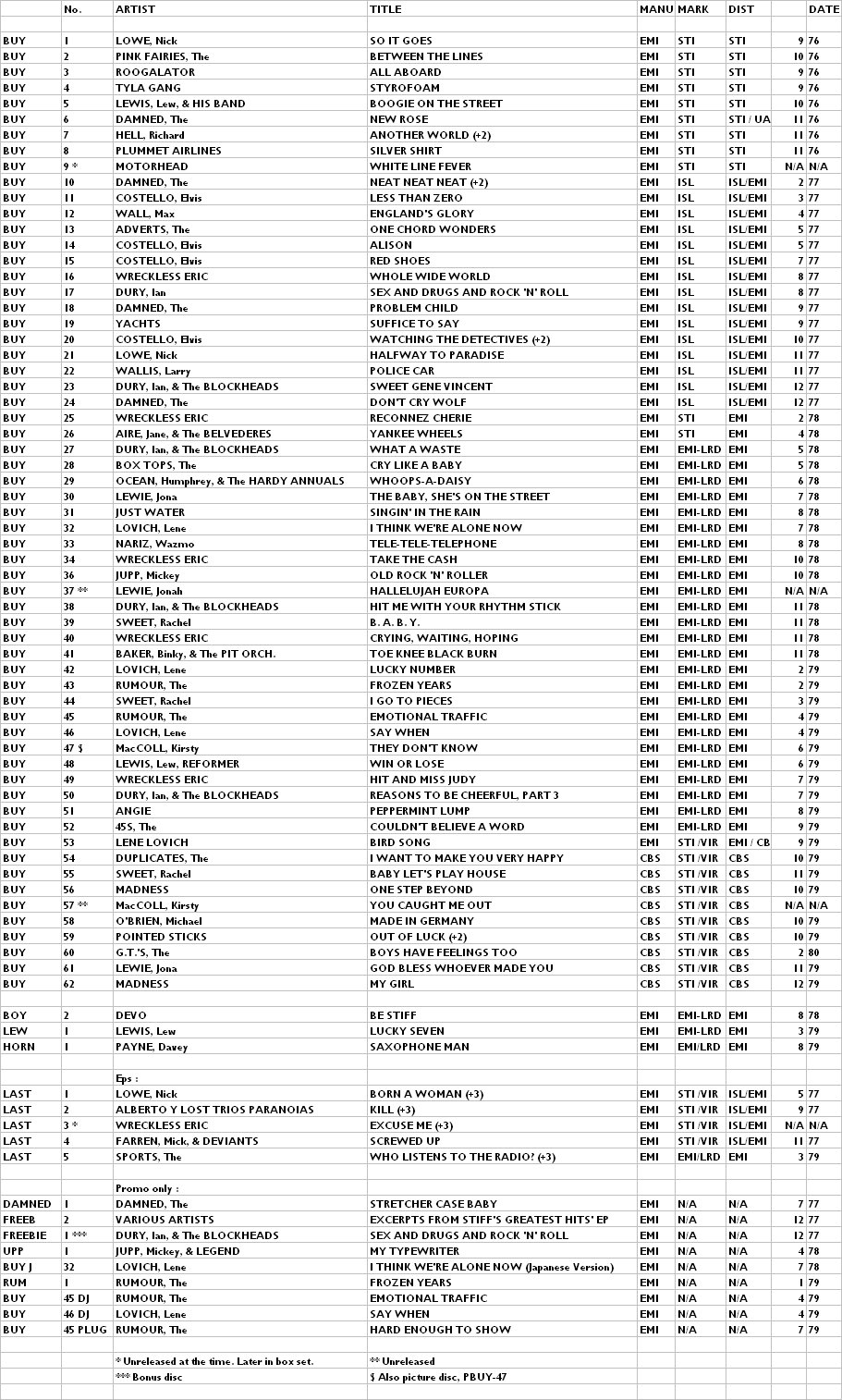 Copyright 2006 Robert Lyons.