THE WIGHT LOCOMOTIVE SOCIETY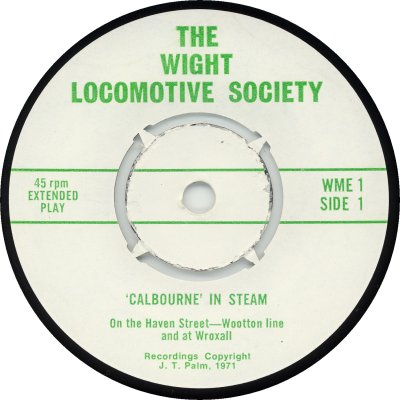 The Wight Locomotive Society was set up in late 1965 with the intention of preserving a portion of the railways of that Isle of Wight, which were more or less doomed to closure at that point. By 1971 an engine, 'Calbourne', had been purchased, along with a few items of rolling stock and roughly a mile-and-a-half of track, sufficient to start running trains and attracting visitors. As part of its fund-raising drive the Society issued an EP of recordings made of 'Calbourne' at various places. It came in a picture cover, and had a catalogue number of WME-1. There doesn't appear to have been a WME-2. Happily, the fund-raising was successful: the Wight Locomotive Society evolved into the Isle of Wight Steam Railway and is still in operation today.







Copyright 2019 Robert Lyons.