TROJAN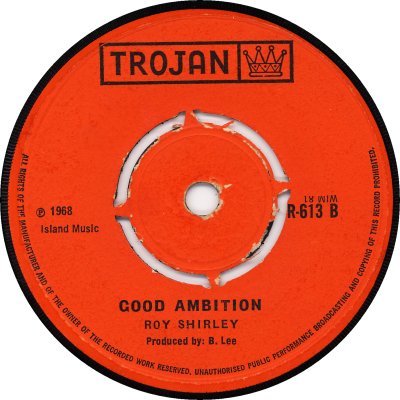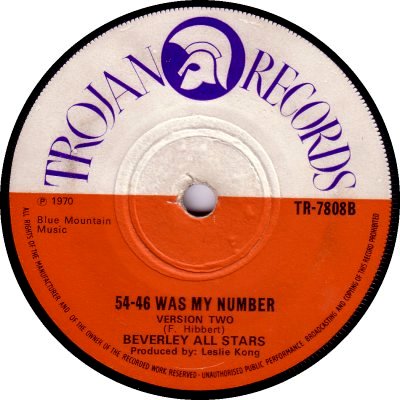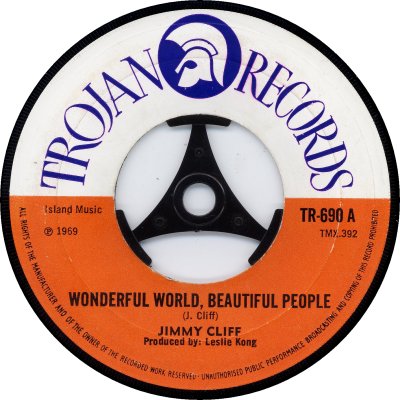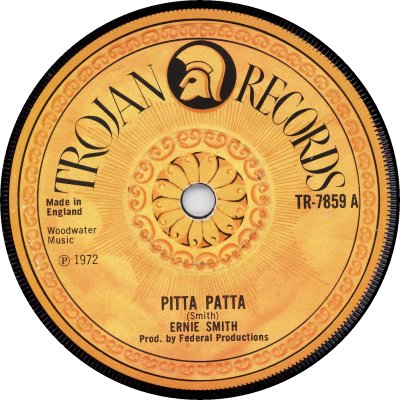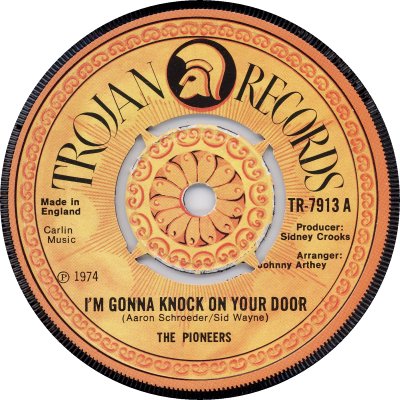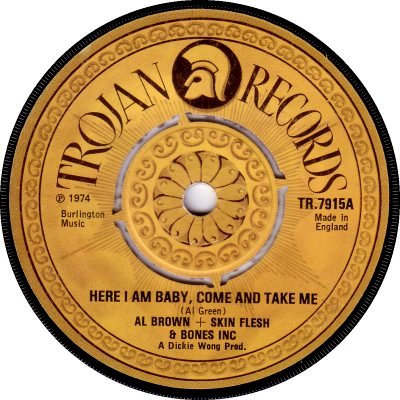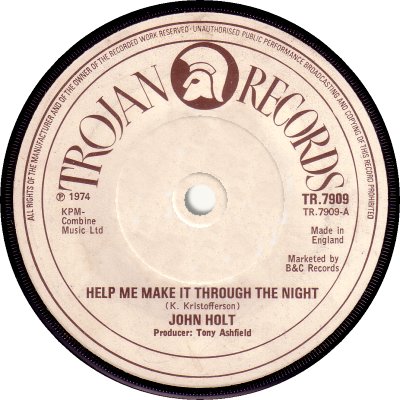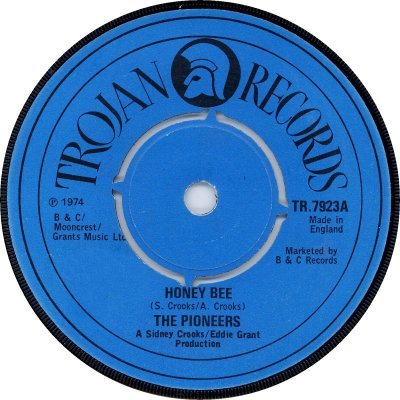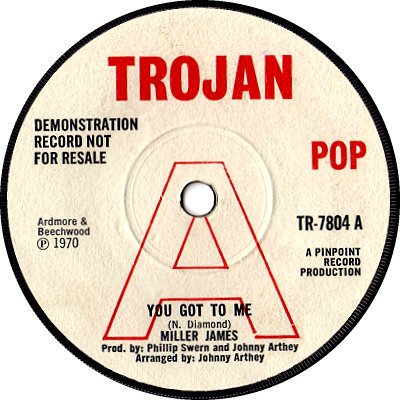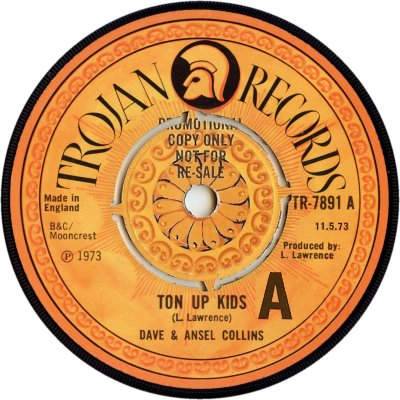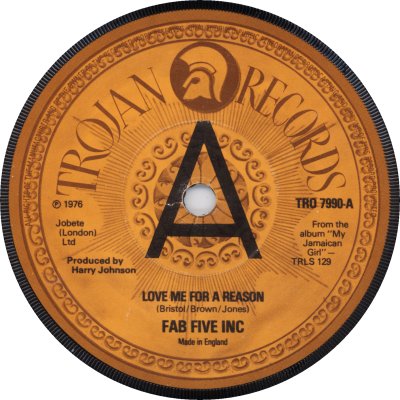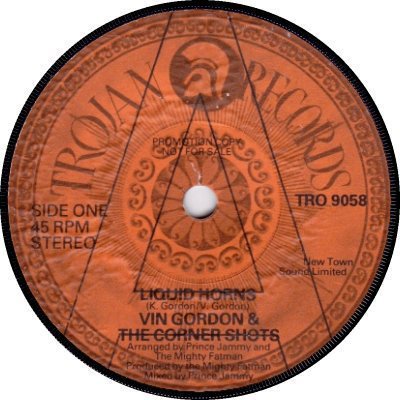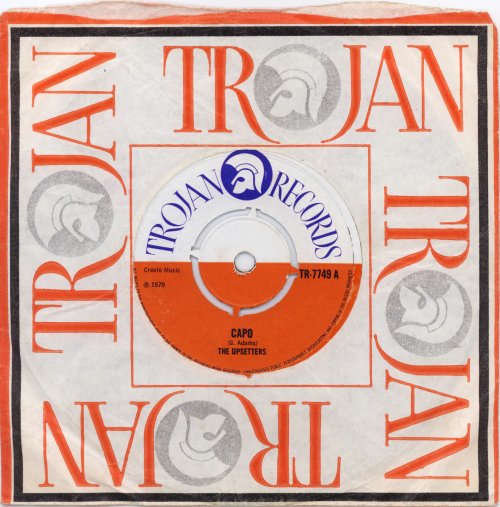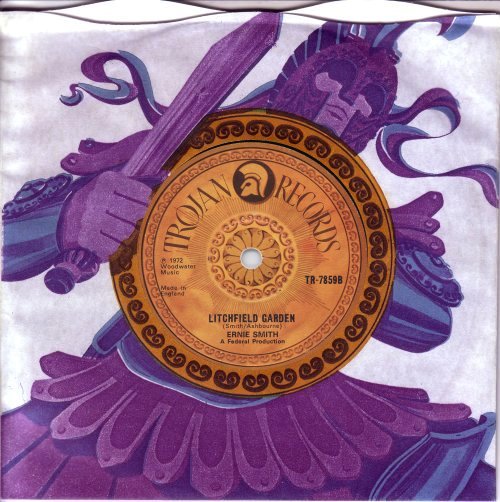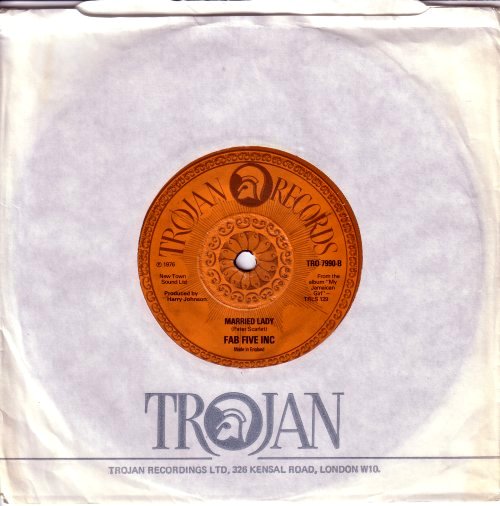 Arguably Britain's biggest specialist Reggae Music company of the 1970s. Trojan began as a subsidiary of Island Records, in 1967, issuing singles produced by Duke Reid, which it numbered in a TR-000 series. It only lasted for a few months in that form, but in 1968 it was reborn as a joint venture between Island and Lee Gopthal's B&C Records Ltd. Catalogue numbers for this new venture were initially in the TR-600s. The reborn label flourished, and gave birth to a bewildering array of subsidiary and associated labels, many of which were used for the work of one particular producer: 'Pressure Beat' for Joe Gibbs, 'Moodisc' for Harry Mudie, and so on. After Tony Tribe tickled the Top 50 with 'Red Red Wine' (Down Town, DT-419) in the summer of 1969 the Upsetters scored Trojan's first Top 10 hit with 'Return of Django' (Upsetter, US-301) that same year. It went on to enjoy a creditable number of other Top 10 Chart singles with the likes of 'Liquidator' by the Harry J. All Stars (Harry J., TR-675; 1969), Jimmy Cliff's 'Wonderful World, Beautiful People' (TR-690; 1969), Desmond Dekker's 'You Can Get It If You Really Want' (TR-7777; 1970), 'Young, Gifted And Black' by Bob & Marcia (Harry J., HJ-6605; 1970), Greyhound's 'Black And White' (TR-7820; 1971), The Pioneers' 'Let Your Yeah Be Yeah' (TR-7824; 1971), and John Holt's 'Help Me Make It Through The Night' (TR-7909; 1974). In addition to those and several lesser successes it hit the Number One spot with the left-field 'Double Barrel' by Dave & Ansil Collins (Techniques, TE-901; 1971) and the more Pop-friendly 'Everything I Own' by Ken Boothe (TR-7920; 1974). In the process it did much to introduce Reggae to the British musical mainstream.
Initially Trojan and its labels were distributed by a combination of Island and Philips, as evidenced by an advert in 'Record Retailer' of the 15th of January 1969. The following year 'RR' of the 6th of June reported that a change in the distribution arrangements had been agreed: independents Keith Prowse and H.R.Taylor were to handle the Trojan labels, with Philips holding on to "a few major releases". A couple of months later, however, the deal with Philips ended; Island looked to EMI for a replacement deal for its own issues but, according to 'RR' of the 8th of August, it continued to handle its 'West Indian material' itself, with the aid of Keith Prowse, H.R. Taylor and Lugton. The end of that year saw Trojan diversifying, to a certain extent: 'RR' of the 28th of November 1970 announced that the company was to enter the Pop market, with singles by Miller James, Paul Tracey and later Jimmy James scheduled for release. These Pop singles were given the standard Trojan label of the time, with no special markings, but demos of the Miller James record had a special 'Trojan Pop' label (9); along with a crossed-out matrix number of TRP-1 on the run-off, that suggests that the intention may initially have been to give Trojan Pop its own identity. In a development along those lines 'RR' of the 20th of March 1971 revealed that Trojan had added a dedicated Pop label, Horse (q.v.), to its stable; the same article claimed that a label for Rock 'n Roll, to be called Wild Cat, was under consideration, but in the event nothing came of it. After a dozen or so issues Horse changed direction and became more or less a commercial Pop-flavoured Reggae label. 1971 also saw the introduction of the Maxi Trojan label (q.v.) for maxi-singles; it initially featured new material but quickly developed into an outlet for reissues of popular records from the back catalogue.
1972 saw a change in Trojan's management. In its issue of the 21st of October 'Music Week' (the renamed 'Record Retailer') reported that Island's partnership with B&C was to be terminated with effect from the end of the month, and that from that point Trojan would be handled solely by B&C. According to the article B&C's managing director Lee Gopthal planned to trim the Trojan artist roster and to severely reduce the number of associated labels - the intention was that in addition to the Trojan label itself only five other labels would still be in existence at the end of the year: Horse and Big Shot for commercial Reggae, Attack, Explosion and Green Door for more 'ethnic' material. Gopthal also aimed to develop Trojan's own distribution facilities, which would be used in addition to those of EMI, Lugton and H.R. Taylor. The following year 'MW' of the 21st of July 1973 said that from that week the Trojan labels would no longer be available through Lugton and H.R. Taylor, but that EMI would continue to handle them; it may perhaps be that by that time Trojan's own facilities had developed sufficiently for the extra distribution not to be needed.
A couple of new labels were added to the B&C / Trojan family in 1973. First came Mooncrest, a joint venture between B&C and Charisma; it was aimed at the 'quality Pop' market, according to 'MW' of the 3rd of March 1973, and it followed the development of B&C into a marketing company rather than a record producer and label. A few months later a Soul label, People, joined B&C's revamped Action label under the management of Webster Shrowder. 'MW' of the 28th of July said that People was intended for more 'Chart friendly' records, with Action handling specialist and Disco material. In May 1975 a label dedicated to Disco music, Trojan Disco Pick, was introduced, but it was destined not to last for very long. See the appropriate pages on this site for a few more details of those labels.
Sadly, despite a couple of big Chart hits B&C / Trojan ran into severe financial difficulties during 1974 and into 1975; they were to prove terminal, at least as far as the original companies were concerned. 'MW' of the 14th of June 1975 revealed that as part of a deal with Art & Sound Limited (the parent company of Saga) two new companies had been formed, with names very similar to the old ones: B&C Recordings Limited and Trojan Recordings Limited. These companies had been sold to Art & Sound, becoming part of Marcel Rodd's Saga (q.v.) organization. As it transpired, the assets of the original B&C and Trojan companies had been transferred to the new companies, leaving nothing behind but the liabilities. A fortnight later 'MW' of the 28th of July broke the news that the old B&C and Trojan companies had gone into liquidation, owing fairly spectacular amounts of money.
Under the ownership of Saga, the Trojan label was reborn. 'MW' of the 13th of September 1975 was able to report that the label was back and was fully operational; a number of singles and albums had been released, more were in the pipeline, and back catalogue items would be made available as soon as they could be pressed. Distribution would be handled by Saga itself, from its Kensal Road premises. The Green Door, Big Shot and Explosion labels had been discontinued, but Attack, Horse and Action survived, as did Trojan itself. According to the article the three minor labels were intended for 'ethnic' material, with the artists being transferred to Trojan if or when they achieved more widespread popularity. Possibly with an eye on the old companies' debts Saga emphasized the discontinuity between their Trojan Recordings Limited and the old Trojan, saying that it was "A completely new company, with new people and policies" but that the name had been retained as it had "a repuation second to none." Saga reforged some links with the old Trojan by signing some of its artists: 'MW' of the 18th of October 1975 said that Owen Grey, Winston Groovy, Honey Boy and Junior English were among those who had been brought on board. Rodd recruited Clive Stanhope from Dart Records (q.v.) at the start of 1976; according to Billboard (23rd October 1976) Stanhope remained with the new B&C / Trojan for nine months and saw the companies through "an extremely difficult situation".
Steps were taken to make Trojan's records more easily available: 'MW' of the 6th of March 1976 revealed that a three-year distribution deal with Selecta had been signed. The deal was to cover all the Trojan labels, including Horse, Attack, Mooncrest, People and Dragon (the latter was associated with Mooncrest for a while), and it was to be effective from the 8th of that month. As it happened, the deal lasted for just two years. 'MW' of the 4th of March 1978 revealed that a new deal had been agreed, with CBS; Saga would continue to press and promote the records itself. Three new labels appeared: Miami, which was dedicated to Soul and was the brainchild of Clive Stanhope, made its debut in the Summer of 1976 ('MW', 26th July), while 1977 saw an agreement with Lightning Records, as a result of which some singles with Trojan catalogue numbers appeared on the Lightning label. 1977 also saw the short-lived Trojan Rockers label, which was dedicated to rootsier Reggae material. Again, a few more details of all of these can be found on the appropirate pages of this site. Efforts were made to generate increased sales: 'MW' of the 11th of November 1978 said that the company was recruiting five sales representatives and was putting together a telephone sales department. Despite these efforts activity on Trojan almost ceased in the early '80s; with regard to singles, only five were issued during the period 1980-82, and all of them featured old material. Releases for the remainder of the decade included new material but, with the exception of a moderately busy 1986, they were fairly sporadic. Happily, the label was revived in the 1990s when it was bought by Sanctuary Records and its new owner undertook the task of repackaging and reissuing its huge back catalogue; it is still flourishing today.
As far as label designs are concerned, the early orange label with a crown logo (1) gave way to an orange-and-white one with a helmet logo (2) in April 1969, with the release of TR-651. The orange-and-white one lasted until the Spring of 1971 before being replaced by shield design (4, 5, 6) for the rest of the decade, from TR-7813 onwards. Several singles released around the changeover point can be found with either type of label. For the first part of its life the shield label had a striking and complementary company sleeve (14). At the time when the new company was formed, in 1975, this 'warrior' sleeve bit the dust; it was replaced by a plain white one with the logo and the company's address at the bottom, in grey (15). The first kind of sleeve shown (13) seems to date from 1970, and is fairly rare. The cream-and-brown label (7) seems to be a one-off: the John Holt single on which it appears was a hit, and it is usually found with a Trojan shield label, so perhaps its popularity led to a shortage of the usual labels and the cream one was a stopgap. One single, by The Pioneers, had a blue label (8) similar to that which was later used on Trojan Disco Pick and Trojan Rockers singles. Trojan seems not to have put out very many demos. During the B&C years some special demo singles were pressed with the 'A' side on both sides and with EMI-style demo markings on the labels (10). At some point between May 1973 and June 1974 these were replaced by ordinary issues overprinted with a large black 'A' on the appropriate side (11). Towards the very end of the decade, when the Saga labels went to CBS for distribution, demos were marked in the CBS fashion with a large hollow 'A' (12). The text 'Made in England' appeared on records intermittently from July 1971 onwards, starting with TR-7823 and including re-pressings of popular earlier singles; it became the norm from TR-7831, in September, and became intermittent again from TR-7990, in October 1976.
Turning our attention to catalogue numbers, as has been said above, the first singles were numbered in the TR-000s; when Trojan was reborn in 1968 it adopted a TR-600 series, which jumped from 699 to 7700 at the end of 1969. The new numbering continued unchanged when Saga took over; the prefix changed to TRO in the Autumn of 1976, however, and another jump in numbering took place in February 1977, from TRO-7999 to TRO-9000.
The pressing of Trojan records is almost as complicated to sort out as their distribution. What follows has been cobbled together from various trade papers and from the pages of 'Music Master'; it should not be taken as authoritative. At the start of the decade manufacture appears to have been generally done by Orlake, of Dagenham, with Philips / Phonodisc chipping in on big-selling singles. The labels of Orlake pressings usually had rougher surfaces, often with a smooth outer ring of various dimensions (1, 2); where push-out centres were provided for, there were four perforations. Phonodisc pressings tended to have large spindle holes (3) or push-out centres with three prongs. The agreement with Phonodisc ended in August 1970, from which point EMI supplied the more commercial releases, Orlake continuing with the common-or-garden items (4, 5). EMI pressings usually had smoother labels than the Orlakes, something that the scans don't really show, and while they had the same number of perforations for push-out centres EMI's perforations were noticeably narrower (6). Orlake pressings often had plus signs separating the various parts of the matrix number on the run-off, as in 'TR+7842+A', while EMIs have the usual EMI-style matrices, such as 'TR 7949 A - 2U'. Towards the end of 1974 Orlake appear to have stopped doing pressings - were they perhaps having trouble getting their invoices paid? - and CBS started to share the job with EMI. Saga / Allied had its own pressing plant, and pressed Trojan's singles itelf after taking the label over; their matrix numbers appear to be after the style 'TRO 7990-A'. Thanks to Bob Mayhead for the scan of the Trojan Pop demo; other demo scans appear by kind permission of Nicholas Hough (10) and Col. Wolfe (12) of the 45cat site. The discography below only covers the TR-7700 series. As I've said, the information in the 'Marketed by' and 'Distributed by' columns is even less reliable than usual. Visual evidence suggests that the singles with 'ORL ?' in the manufacturing column are Orlake pressings, up to the time of the liquidation in 1975, but as I haven't been able to see them in the vinyl and confirm them as certain I've left them as questions. The same applies to the 'EMI ?'s and 'CBS ?'s.








Copyright 2006 Robert Lyons.