Pi symbol = Mike Brown; NOEL = Noel Summerville; TONE = Tony Bridge

Thanks to Denis Blackham for supplying Bill Foster's name.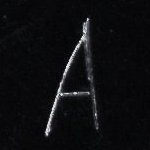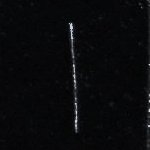 As for other markings on the run-off, there is a letter (sometimes two letters) at nine o'clock, and a number, generally '1', at three o'clock. These are handy, in that they help distinguish between Pye pressings, which have them, and Saga pressings (see below), which don't. In the '70s Pye pressings were often done on a kind of vinyl which appears a translucent wine red when held up to direct light, which is a useful identifying characteristic. There doesn't appear to be any distinction between run-off legends of Pye Group records and those of records which Pye manufactured and distributed for other companies.
* * * * *
RCA


From the start of the decade until the spring of 1975 the run-off legends and the other markings on RCA singles - including associated labels such as Rockfield - are often pretty much identical with those of CBS singles, as CBS did a lot of the pressing: typefaced matrix numbers plus another single (stamper?) number at twelve o'clock; an 'A', often degenerated into a three-dot 'therefore' kind of mark at nine o'clock; and usually one or two numbers (often faint) at three o'clock. RCA singles, however, often have a letter 'E' after the 'stamper' number (if that is what it is). At first the matrix numbers of RCA records were vastly different from the catalogue numbers, but in 1973 they became more or less identical, with only a suffixed 'A' or 'B' (indicating the 'A' or 'B' side of the record) to distinguish between them. With the component parts added together, what we see in the run-off is something akin to 'BGBS 0992 1E', or 'RCA 2411 A 1E'. RCA pressed many of its own albums during the first half of the decade, but it also seems to have pressed a limited number of its own singles. One of the few examples that I have seen and of which I can be pretty sure can be seen in the first picture shown above. The matrix numbers are in a typefaced font, set in a slight curve at six o'clock; the number itself has a '1E' after it, separated from it by a hyphen, as the CBS pressings did. Elsewhere on the run-off there is a handwritten three-digit block such as A1A, A1C, and so on - their appearance is similar to the example shown below. The labels of these early self-pressed singles had shiny-looking labels and a ring 25mm in diameter around the spindle hole. Confusingly some CBS pressings from slightly later (1974-75) also have that 25mm ring, but the labels do not have the same shine to them. In early 1975, however, RCA developed a style of its own - presumably it started pressing all its own singles at that point (it had been increasingly responsible for pressing its own albums from mid 1969). As can be seen from the example shown in the second picture, the matrix numbers bore a close resemblance to those of the earlier self-pressed singles, except that the characters were handwritten; and they can be found in the same position, at six o'clock. It was usual for some of the components to be separated by hyphens, as in 'PB 5099-A-2E' and 'GO 336-A-1E'.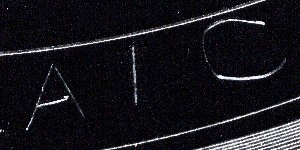 As a rule there were two other marks on the run-off during this later period: a 'letter number letter' triad, such as 'A1C' or 'A1H',similar to that on the earlier self-pressed records, and a letter 'W' in inverted commas. These could be found at any point around the run-off; popular places for the triad were at three o'clock and nine o'clock, while the 'W' often turned up at twelve. On occasions the triad adds an extra letter or two, as in 'A1AT' or 'A1AAB'. Thanks to Keith Stephens for additional information.
* * * * *
WEA
For the greater part of the 1970s labels in the Kinney / WEA group were pressed by CBS, the two companies having shared manufacturing and distribution facilites, and therefore they have CBS-style markings. WEA was an ambitious concern, however. It set up its own distribution network, which came into operation in early 1976, and purchased Island's pressing plant when it came up for sale in January 1978. According to Billboard magazine (21st January) its manufacturing agreement with CBS still had more than a year to run, but the plant was available for overflow work and third-party pressings. In that same year WEA invested in Damont, which had another pressing plant, and by February 1979 Damont had become part of the WEA group. This gave WEA two separate facilities to employ when it struck out on its own, which it appears to have done around the end of 1978. Its singles from then on can be divided into two distinct types. Singles of the first type have anti-slip ridges around the labels and often have a 'D' at twelve o'clock: it seems reasonable to guess that these are Damont pressings, particularly as in the early '80s the 'D' was sometimes replaced by a 'DAMONT'. The second type of single has no anti-slip ring and no 'D': I have no proof that these came from the ex-Island plant, but it seems not impossible. Singles of both kinds frequently have marks from studios such as Strawberry, suggesting that mastering was done by independent facilities. There are some differences in the run-off markings of the two types, and it is to these that we now turn. As ever, I would like to point out that what follows is a generalization, and that there are exceptions here as there are everywhere else on this page.
WEA / DAMONT (?)




The matrix numbers themselves are at six o'clock, and are handwritten. The numerical part is usually without hyphens, but they seem to be optional after the 'A' or 'B' side indicator. There is often a number at three o'clock and a letter at nine, and the overall effect is similar to Pye pressings. Unlike Pyes, however, there is a 'D' (sometimes underlined, and sometimes quite fancy, as below) at twelve o'clock, and the WEAs lack the distinctive star / diamond / triangle markings which indicate Pye mastering.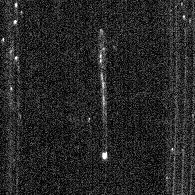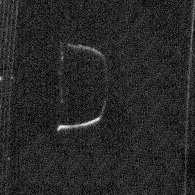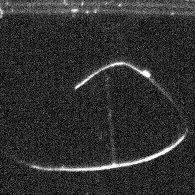 WEA (Ex-Island plant?)




Again, the matrix numbers are handwritten, are at six o'clock, and can be found with or without hyphens. Elsewhere in the run-off there are often the names or logos of the studios which were presumably responsible for doing the mastering; there are other marks too, such as combinations of the letter 'S' and a number, 'EG', or WEA T/P'. The 'S' appears to refer to Strawberry studios, which presumably did some mastering for WEA. A number can be found either at three o'clock or at nine o'clock.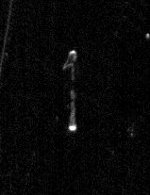 * * * * *
ORLAKE

A pressing plant from the Dagenham area, Orlake pressed singles for any number of independent labels during the '70s, and it is still in operation today. It manufactured many of Trojan's singles, both on the actual Trojan label and on the subsidiary labels. Orlake products often have a '+' separating the different parts of the matrix number, as in 'HOSS+18+A'. The numbers may be typefaced or handwritten. Sometimes the letters 'OR' can be found. The labels on Orlake pressings tend to have rather rough surfaces, often with a smooth outer rim.
* * * * *
BRITISH HOMOPHONE


A long-lived independent pressing plant, British Homophone was founded in 1921. It issued records on its own labels until 1935, and continued to press records for other companies until at least the mid '70s. The company pressed some Doctor Bird singles and was owned at some point in the '60s and '70s by President Records boss Ed Kassner, so, because my sole Doctor Bird and most of my few Presidents have run-off markings in the style shown above, I hope and trust that that is, indeed, the British Homophone type of marking. Jim West, the owner of the small independent West Records, says that he used British Homophone for his pressings, and the markings on the few West records that I have seen are similar, which boosts my confidence somewhat - the second example above is from one of his EPs. Working on that premise, until some time in 1974 its style of matrix numbers was distinctive: as can be seen from the above illustration the numbers, which appeared at six o'clock, were quite bold and deep; often there are tiny circles at the end of the various lines that make up the figures, as though something like a dentist's drill has been used to make them. That style of marking can be found on the records of a large number of small companies, such as Dancetime, which presumably were British Homophone customers. It seems to have fallen out of use in 1974. From that time onwards President group records often have a less distinctive kind of number; generally hyphenated and at times bold, as shown below.

What follows, I emphasize, is conjectural. Ed Kassner continued to own British Homophone until towards the end of the decade. It seems logical to assume that he would have his record company's records pressed by his pressing plant. If that is the case, the style of matrix number shown above is proper to British Homophone pressings. There is some evidence to support this theory: the labels of British Homophone pressings with the earlier type of number often have a rough inner circle, approximately the size of a push-out centre. Singles with the above style of number also have those rough circles - Orlake pressings also have smooth outers and rough inners, but the roughness is far more extensive for Orlakes. Here are a couple of examples - the roughness has been emphasized for the sake of clarity: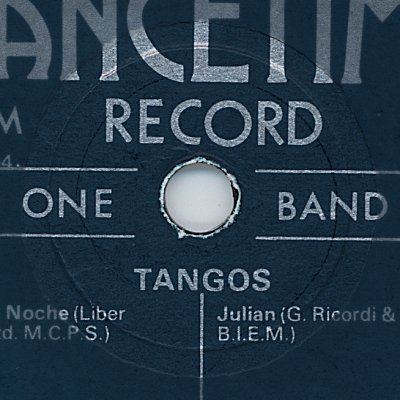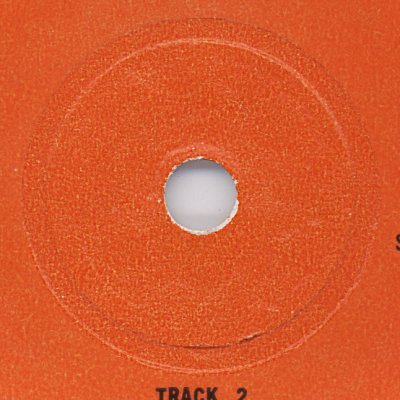 The rims outside the labels of British Homophone pressings from the first half of the decade - if pressings such as the ones shown above were indeed done by that company - tend not to have the raised anti-slip ribs which can be found on many records, though some of them do. Pressings from the second half, with the second kind of number, tend to have shallow anti-slip rings. Phew.
* * * * *
LYNTONE

An independent pressing plant, based in Upper Holloway, London. Lyntone was a prolific firm: from the early '60s into the '90s it manufactured for literally hundreds of minor labels and also undertook contract work for some of the majors. Sometimes its name is mentioned on the labels, but the things to look out for are the Lyntone matrix numbers which appear in the run-offs, often in tandem with the originating company's matrix number. They have an 'LYN' prefix; in the '70s the numbers run from the 1900s up to the high 7000s. The two sides have consecutive numbers, the example shown having 'LYN-3517' on the reverse. Lyntone singles tend to have no anti-slip rings.
* * * * *
SAGA / ALLIED

Based in Kensal Road, London W10. Saga is probably best remembered for its budget LP labels, but a pressing plant, 'Allied Records', was part of the same group of companies in the late '60s and the '70s, and a second, separate, plant was set up in March 1973. In 1975 Saga took over the revamped Trojan and B&C labels, at which point, presumably, it started pressing their singles itself, through its Allied arm or through the new company. If that is indeed the case, it enables us to identify Saga's style of matrix number at this period. As can be seen in the example shown above, the number appeared at six o'clock and was in the form 'TRO 7990 A-1'. This is similar to one of the forms used by Pye, the one without the symbol and letter(s) at the end - see the third illustration in the Pye section. Saga singles, however, don't have the additional letter at nine o'clock and number at three o'clock that Pye singles have. The Saga-era Trojan and B&C singles which I have been able to examine have all had shallow anti-slip rings around the label. There are records on other labels with this style of matrix number but without that anti-slip ring; I have no evidence that would connect them to Saga - some of the ones from the end of the decade may possibly be WEA products (see above).
* * * * *
INDUSTRIAL COMMERCIAL PLASTICS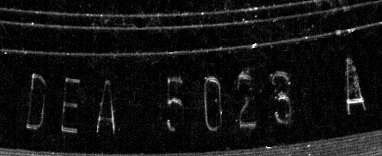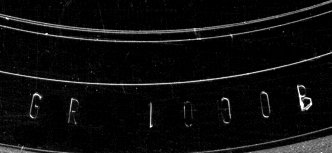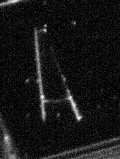 A Leicester-based independent pressing firm. I only have two singles that I know were pressed by ICP, but the style of their run-off markings has some features which seem to be distinctive. The matrix numbers are in a typeface and can be found in the six o'clock position. The letters and numbers are rather thin, and the bar on the letter 'A' is rather low, as can be seen from the illustration. Some singles have anti-slip ridges around the edge of the labels, others do not; they do, however, seem to have a pronounced 'moat' nine or ten millimetres away from the spindle hole and a noticeable bevel (around 6 mm wide) further out - I haven't been able to examine enough definitely-ICP singles to be sure that that was always the case; it may well not have been. ICP seems to have pressed records for a number of independent labels, including Budget LP concern Deacon. Records with a similar style of matrix number can be found under Sound News Productions, below.
* * * * *
SOUND MANUFACTURING



Sound Manufacturing had registered offices at 14 New Burlington Street, London W1, and a pressing plant in Hayes. 'Billboard' of the 15th of September 1973 reported on the opening of the plant, and said that under its managing director John Wooler - previously with EMI - it specialized in 12" records and had the capacity to fulfil orders of between 50 and 1,000 copies. It did however press some 7" records. In addition to the matrix number some of its products had a distinctive 'Delta plus four-figure number' mark in the run-off (2); some just had the four-figure number; while others had a 'K' or a diamond, followed by a three-figure number (3). The matrix number on the only two Sound Manufacturing 7" records that I have seen in the vinyl were similar in looks to those of Industrial Commercial Plastics (see the previous item) being thin-stemmed and typefaced, but there were slight differences: the Sound Manufacturing figure '1' had a serif, and its figure '2' had a smoother stem than the ICP one, lacking the 'knee and lower leg' part. With any luck you'll be able to see the differences in the scans shown under the two headings. Thanks to Jake Jeffers for confirming the existence of the Sound Manufacturing plant and that the delta (or triangle) numbers and 'K' numbers were indeed peculiar to its pressings.
* * * * *
MULTIPLE SOUND (PRESSINGS)


An offshoot of television merchandising and budget-record firm Multiple Sound Distributors. Multiple Sound pressed records for the likes of Pickwick, K-Tel, Readers Digest and Chevron, as well as its own Warwick label. I have only been able to inspect three 7" records which I am pretty certain were made by the firm, all of them dating from the late '70s or 1980, so what follows should be approached with care. The records did have one feature in common: a star after the matrix numbers, on one or both sides. The matrix numbers were at six o'clock and were handwritten; the constituent parts were separated by hyphens in two out of the three cases - the second scan shown above has had the original markings written over, to increase legibility. Pye singles sometimes had a star in their matrix numbers, but they had other markings on the run-off as well (see above) while the Multiple Sound pressings do not. In addition, Pye pressings have regular and quite prominent anti-slip rings, whereas those on the Multiple Sound records are either faint, partial or absent altogether, as in the second example shown. It would be useful to have more examples, as a check, but until they come along it would appear that the stars are the main things to look out for.
* * * * *
LINGUAPHONE
Different from the other companies on this page, in that for much of its existence it seems not to have done its own metalwork but to have pressed records using masters supplied by other firms. As a result there don't usually appear to be any distinguishing marks in the run-offs. What follows is therefore not 100% certain, but I'm quietly hopeful that it's accurate. Linguaphone had a big pressing facility; at the time it was sold on, in 1986, it was capable of turning out 125,000 singles a week ('One to One' magazine, November 1986). There should, therefore, be an awful lot of Linguaphone-pressed singles out there. According to 'Music Week' of the 14th of June 1975, Zel-La were getting at least some of their singles pressed by Linguaphone; and in the issue of the 8th of April 1978 'MW' said that Linguaphone were doing Big Bear's pressings. Two Big Bear singles of the time and one of the earlier Zel-Las have the same quite distinctive indentations on their labels, indentations which can also be found on some singles on the Linguaphone label. In addition Andrew Titcombe has been kind enough to confirm that singles on his Keswick label were made by Linguaphone, and these, too, have the same markings. I strongly suspect, therefore, that those indentations show that a given single was pressed by Linguaphone. They consist of a distinct bevel, its outer edge approximately 58mm across, its inner approximately 45mm across, and a slightly raised area, some 25mm wide, around the spindle hole. In the examples shown below the bevel has been strongly emphasized in order to make it properly visible.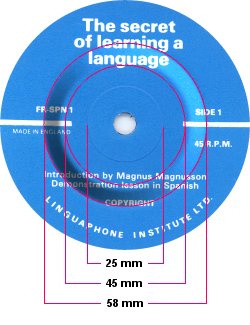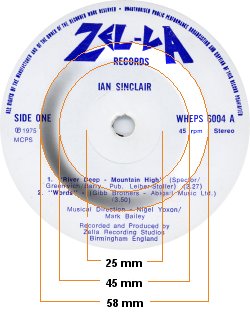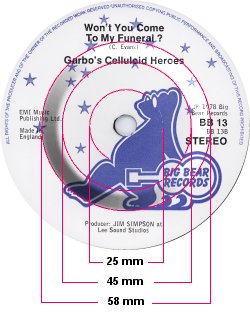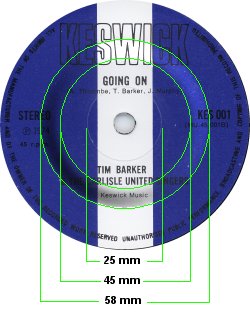 There are many singles around with similar markings, which would correspond with Linguaphone being a prolific presser. Many are from the smaller companies, ones which didn't have their pressings done by the majors. It would appear that those companies had the metalwork done elsewhere - perhaps by a firm such as Gedmal Galvanic of Leicester, which did metalwork but not pressing - and then took it to Linguaphone to get the pressings done. I can't offer definite proof but I think that it seems likely. Some RCA singles have the marks, too, which suggests that CBS (which pressed most of RCA's singles at the time) may have turned to Linguaphone when its own presses were fully booked.
Early in the decade singles can be found which have the same markings but with the addition of a narrow 'canal' around the inner raised area. Many Linguaphone singles have these, which leads me to think that they, too, may be indicative of Linguaphone pressings. The theory is supported by the fact in 'Record Retailer' of the 13th of June 1970 it was said that along with EMI and Decca 'an independent firm in Slough' (where Linguaphone was based) was helping Pye to press copies of Mungo Jerry's 'In The Summertime', and some copies of that EP have the bevel, the raised area and the 'canal'. Again, some RCA singles have the 'canal' along with the other marks. Examples are shown below.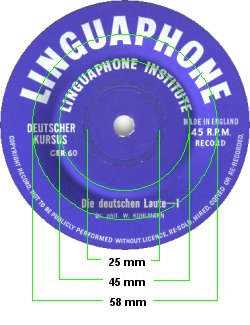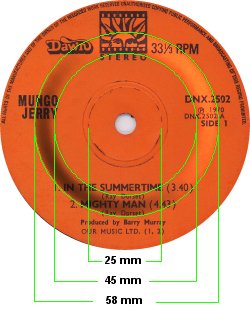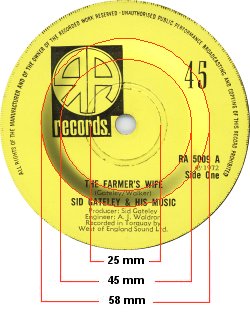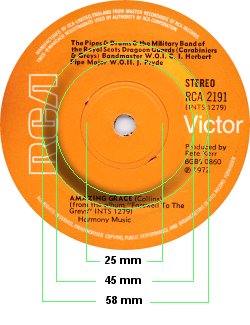 This doesn't add up to
proof
that Linguaphone was responsible for singles with these marks, but I like to think that it's reasonably strong evidence.
* * * * *
* * * * *

The following table should give a rough guide to matrix number and run-off variations.
The information given refers only to 'A' sides, for the sake of simplicity.


COMPANY
TWELVE O'CLOCK
THREE O'CLOCK
SIX O'CLOCK
NINE O'CLOCK
CBS
Run-off legend, typefaced before c.1977, handwritten afterwards, ending in A1
One or two numbers, often faint
(Nothing)

Triangle of dots (= A), or letter

DECCA
(Nothing)
Letter; B, U, C, K, I, N, G, H, A, or M (Indicates stamper number)
Runoff legend, typefaced, hyphens, ending in T1-1C, T2-1C, or similar
Number (Indicates which metal mother was used)
EMI
(Nothing)
Letter; G, R, A, M, O, P, H, L, T, or D (Indicates stamper number)
Run-off legend in wide-spaced type; ends -1, -A1 or -A1U
'1' or reversed
PHILIPS
Run-off legend, typefaced, containing '1F//', inverted triangle and '420'
Three numbers with differing separations; first two often '1's
(Nothing)
'03' '04', '05'; nearer ten o'clock, can also be at two
POLYDOR
Run-off legend, typefaced, containing 'A//', inverted triangle and '420'
Three numbers with differing separations; first two often '1's
(Nothing)
'03' '04', '05'; nearer ten o'clock, can also be at two
PYE
(Nothing)
'1'
Run-off legend ending with '-1' or other number, often followed by a triangle, a star or a diamond and one or two letters
Letter
RCA (1971-75?)
(Nothing)
Possibly 'letter-number-letter' - can be found elsewhere
Run-off legend, typefaced and curving, often ending in '-1E' or similar. Glossy labels, with 25mm diameter ring around spindle hole. Matt labels with that ring appear to be CBS pressings.

Possibly 'letter-number-letter', if not elsewhere

RCA (1975 on)
Possibly 'W' - can be found elsewhere
Possibly 'letter-number-letter' - can be found elsewhere
Run-off legend, handwritten, often ending in '-1E' or similar
Possibly 'letter-number-letter', if not elsewhere
ORLAKE
(Nothing)
(Nothing)
Matrix number, typefaced or handwritten, its components often separated by a plus sign
(Nothing)
WEA (Type 1)
Often 'D'
Number, often '1'
Matrix number, handwritten
Letter
WEA (Type 2)
Number - at 9 o'clock if not here
Matrix number, handwritten
Number, if not at three o'clock

BRITISH HOMOPHONE (to 1974)

(Nothing)
(Nothing)
Matrix number, typefaced, very obvious, sometimes suggestions of circles at the end of lines
(Nothing)

BRITISH HOMOPHONE (1974 on) (?)

(Nothing)
(Nothing)
Matrix number, handwritten, usually with two or three hyphens. Look for circle of roughness, around three and a half cm, in the centre of the label.
(Nothing)
LYNTONE
(Nothing)
Alternative catalogue number somewhere on the run-off
Matrix number, handwritten, with an LYN prefix
(Nothing)
SAGA / ALLIED
(Nothing)
(Nothing)
Matrix number, ending in '-1'
(Nothing)
ICP
(Nothing)
(Nothing)
Matrix number, typefaced, thin. 'A's have low bars. No serifs on '1's, '2's have kink in stem.
(Nothing)
SOUND MANUFACTURING
(Nothing)
(Nothing)
Matrix number, typefaced, thin. Serifs on '1's, no kink in stem of '2's.
Triangle and four-figure number - perhaps can be found elsewhere.
MULTIPLE SOUND
(Nothing)
(Nothing)
Matrix number, handwritten, with a star at the end. May have hyphens.
(Nothing)